Main - NEW BLOG! - Legacy - Fiberlam - OEM Information -
Links
- Contact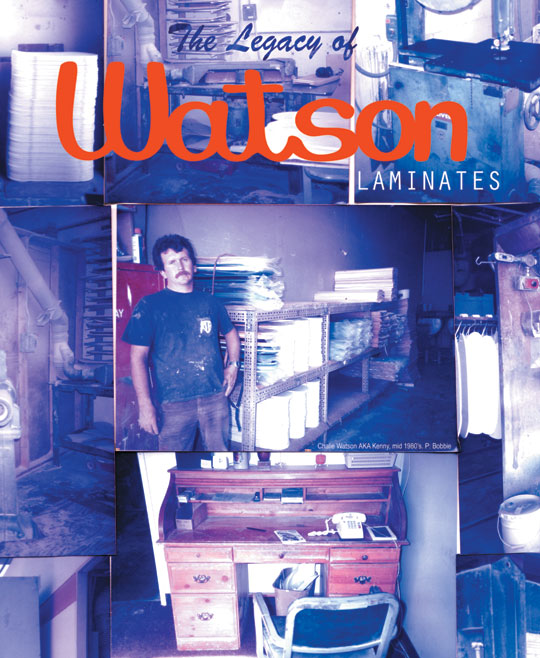 Written by Charles K. Watson
Reprinted Courtesy Concrete Wave Magazine

Watson Laminates was started originally as The Shack Out Back in approximately 1974, in the rear gardening shed behind my family duplex in Pacific Beach. I was doing custom furniture, cabinets and repair, working construction jobs when available and apartment improvements for clients and friends between surfing after high school.

Friends of my neighbors were into skateboarding when the original Cadillac wheels came out and they would go to some small hills in LaCosta and Encinitas. I'd go with them to check it out and cruise down some hills. At that same time I would go to the hardwood lumber yard and get the scrap oak and cut out classic skateboard shapes of the time. I was selling them to the local shops. The friends up the street were the originators of Tracker Trucks (Larry Balma and Dave Dominick), which revolutionized the industry. That's when I started making more of a laminated deck out of maple veneers for curved boards. I went back to my high school welding shop teacher who ran the night classes and he let me use the shop to weld up my first presses for my laminated decks. He was a cool guy.

At first I tried my own brand, Archeryflex, which was too different of a skateboard and did not sell (One quarter page ad appeared in SkateBoarder March 77). Using the same Epoxy/ fiberglass configuration as my Archeryflex decks, I started making more regular, kick tail deck for other companies like Rockit Skateboards. Then I made decks for surfboard shaper Bill Caster and his company, Caster Skateboards. He was starting with riders like Chris Strople, Tom Inouye and others. I started to make a larger volume of boards out of small garages and mini storage place on Mission Bay Dr. Rusty Surfboards had a shaping room in the same complex as did myself and other small craftsman. After year and half the fire marshall came through and had most of us kicked out! We moved to a larger building in the Miramar Road area and were ready to keep growing just as the bottom dropped out in the early 80's.

Skateboarding came to almost a dead stop. SkateBoarder magazine stopped printing and everything sucked. The time of Road Rider Wheels and Fiberflex was fading fast. I did not want to go away so I moved into my shop and had no helpers or employees. I was working by myself making a little amount of skateboards during the day and doing tenant improvement in the evening and sanding and painting yachts on the weekend in the harbor.

After a year or more of down time it started to come back some. During this slow time I made some of the early wood-epoxy-fiberglass snowboards with side fins for Tom Sims and Chuck Barfoot. I made epoxy decks for George Powell and Stacy Peralta. I also made decks for Brad Dorfman of Vision/Sims as well. I was making molds by hand, carving them and trying to make new concave kick tail decks that were the new thing. I was approached by Steve Cathey of G&S who were just across the street to make some decks for them because their old manufacturer, Taylor-Dykmea, was not interested in doing their decks since the amounts were so small. This started a ten-year relationship making decks for Larry Gordon. He was a great guy who was just across the street and we made lots of great decks (Saladino, Blender, Ruff) decks over those years. During the early 80's we started making the standard seven ply decks that are that basis of all skateboards manufactured for the last 20 plus years and on.

– Written as best remembered, Charlie Watson.

Watson Laminates survived another downturn in the late 80's - early 90's as well as early this decade. Watson has gone on to make skateboards for many, many companies that have come and gone. It continues manufacturing today in San Diego, USA. Crafting a wide variety of constructions and deck styles. From premium short boards to classic 70's and 80's shapes to technical mold and composite construction for long boards and slalom. The Watson legacy is an icon of quality and determination and a great part of the skateboarding culture. The torch has now been passed to Tod Swank, thirteen year Watson customer, lifelong skateboarder and Founder of Foundation Equipment Corporation. Watson Laminates will continue serving the needs of skateboarding. Charlie remains on as chairman of the "Board".




---
© 2006 Smooth Operators LLC Watson Laminates