Main - NEW BLOG! - Legacy - Fiberlam - OEM Information -
Links
- Contact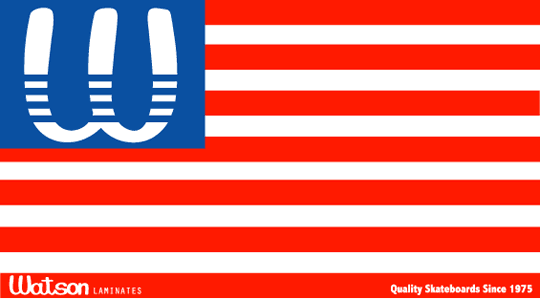 Thank you for your interest in Watson Laminates. We are an OEM supplier to authorized resellers only. We DO NOT sell
to the general public. Serious inquiries ONLY. You must provide business license and resale certificate before we
provide any additional information. Please fax or email copies of your business license and/or resale certificate.
Please fax to 619-233-0025 or email PDF files.
We have been making skateboards since 1975 in San Diego, CA. We are experienced and fully capable to make a
wide range of skateboards. Shortboards, longboards, classics, composites, custom shapes, custom molds and
custom designer laminates. We do it all. We are one of the only premium manufacturers left in the USA. We make
skateboards for many top premium companies in the skateboard industry as well as to companies from all over the world.
We can also do other non skateboard unique laminated wood and composite products.
We have a full service graphic application department where we offer full silkscreen services as well as
the very popular heat transfer graphic application. We also can provide laser etching for authenticity.
We can assist in your shipping needs to anywhere in the world.

Once you provide us with your documentation of business then we can forward pricing and further information.
Our production time is running 2 to 3 weeks for decks and an additional 2 to 3 weeks for silk screening.
Our minimum order is 100 decks per shape/construction/graphic.
We require a 50% deposit on purchase order submission and the remainder upon completion.
We accept Visa, MasterCard, Checks, and Money Orders for payment.

We charge $20 per sample plus shipping and will credit your first order the sample amount if an order comes out if this.
We only will only do samples for committed potential customers.
All our boards are produced and Made in the USA with all North American Maple Woods and we have 30 years of experience.


Fax: 619-233-0025




---
© 2006 Smooth Operators LLC Watson Laminates