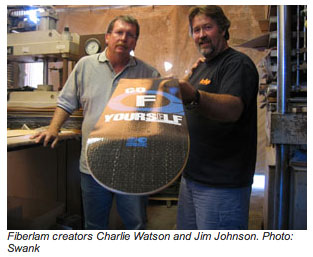 Many skate brands choose to keep deck technology under the hood using different epoxies, laminates, and glues that aren't easy to spot on the sales floor. Tum Yeto, however, recently unveiled its latest innovation, a strength-boosting technology called Fiberlam™ and Patent Pending, that's distinctively visual to consumers.
Developed by Charlie Watson and Jim Johnson of Watson Laminates, Fiberlam is marked by two composite plies that sandwich interior wooden plies. According to Watson, the top and bottom composite layers add strength, reduce weight, and increase durability and stiffness. Tum Yeto President Tod Swank says the design was engineered to combat the enormous pressure that falls on a deck's outer plies. "Once these layers give way with cracking, the rest of the board follows suit, causing failure under load," he says. "Due to the composite materials we use on the top and bottom of the deck, the pressure and load of the rider is dispersed evenly." Swank also adds that Fiberlam decks yield greater slidability with far less surface wear.
In addition to its added strength, the distinct fiber-weave material used on the top and bottom of each Fiberlam deck has a distinctive touchable texture different from any other board on the market. "We wanted something that was visual on top of being truly functional," says Swank. "The Fiberlam is all of those. Something skateboarders can see and feel."
Tum Yeto is giving shops an extra incentive to stock the new deck technology. "Fiberlams cost us more, but we're maintaining a standard wholesale price. Retailers are getting a premium product with a built in discount," says Swank "We are urging retailers to sell Fiberlams as a premium product in order for them to make a decent margin. We hope that they do."
Swank is confident that the production of his Fiberlam decks is a direct reflection of his company's commitment to skateboarding culture, professional skateboarders, retailers, and consumers: "It's a better product. It has real functionality. It's not just the result of an overzealous imagination. It's rider tested and approved, has a better margin, and it's made in the U.S.A. Also, very simply, Fiberlams are a great selling story for consumers that are sick of boards breaking—or parents who don't understand that skateboarding is cheaper than almost any other activity their kids could be doing."
Foundation Fiberlam decks are available now on select pro and logo models, while Toy Machine Fiberlams will be dropping in Spring 2007.